Monday, September 24, 2012
On August 28, Duke Divinity School's Goodson Chapel was filled to capacity as Duke Initiatives in Theology and Arts presented DITA director Dr. Jeremy Begbie and London-based concert pianist Ms. Cordelia Williams in a two-piano concert featuring Oliver Messiaen's Visions de l'Amen.
Tuesday, August 28, 2012 -

7:00pm

to

8:30pm
Goodson Chapel, Duke Divinity School
Carol Rush, (919) 660-3456 or crush@div.duke.edu
Duke Initiatives in Theology and Arts will sponsor "A Concert for Two Pianos" featuring Jeremy Begbie, Thomas Langford Research Professor of Theology at Duke Divinity School, and Cordelia Williams, international pianist and fellow at Guildhall School of Music in the United Kingdom, performing "Presto" from Piano Concerto by Maurice Ravel and Visions de l'Amen by Olivier Messiaen.
There also will be an exhibition of photography by members of the Divinity School inspired by the music.
Admission to the concert is free. The concert will be followed by a dessert reception on the Bovender Terrace at the Divinity School.
A recent book co-edited by DITA's Director Jeremy Begbie has been honored by the Academy of Parish Clergy at their annual conference. Resonant Witness: Conversations between Music and Theology (Eerdmans) was selected by the Academy as one of the Top Ten Books for Parish Ministry published in 2011.
Makoto Fujimura and Bruce Herman to visit Duke Divinity School
Duke Initiatives in Theology and the Arts has announced that it has been awarded a grant by the Vice Provost for the Arts and the Council for the Arts to bring two internationally renowned and gifted artists to Duke Divinity School for a two-day residency in the spring semester 2013.
Link to Page:
http://divinity.duke.edu/calendar/20120327debraband
Tuesday, March 27, 2012 -

12:30pm

to

1:20pm
0013 Westbrook
stephanie.gehring@duke.edu
The Duke Initiative in Theology and the Arts is co-sponsoring a brown-bag lunch featuring Jewish artist Debra Band. She will speak about her artistic process, what motivates her as a Jewish artist, and why she creates Judaic artwork. There will be time for questions and discussion.
Band also will speak in an Old Testament course taught by Duke Divinity School Professor Ellen Davis.
Wednesday, March 14, 2012 -

3:30pm

to

4:30pm
Westbrook Building and Goodson Chapel
roger.loyd@duke.edu
Artist Ethan Jackson will speak and answer questions about his pinhole camera exhibit, "Camera Obscura," that will be on display in the Westbrook hallway (the Cloister Walk) beginning March 7-8 and throughout the spring semester.
The talk begins in Goodson Chapel at 3:30 p.m.
The art exhibit is sponsored by the Art, Art History & Visual Studies Department at Duke, and co-sponsored by the Arts and Aesthetics Committee of Duke Divinity School. It is one of nine art projects that the committee has been working on for display in in the school over the last year.
Interview with Professor/Jazz Saxophonist Melvin Butler
Tuesday, February 28, 2012
Link to Page:
http://www.faithandleadership.com/qa/melvin-butler-crossing-boundaries-music
Tuesday, February 21, 2012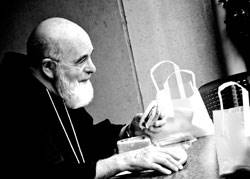 The New Creation Arts Group is calling for submissions from students, faculty, staff, alumni, and immediate family members for Duke Divinity School's Spring 2012 Juried Arts Exhibit by March 16.
Pages