Tuesday, December 6, 2011 -

5:30pm

to

7:00pm
York Reading Room, Duke Divinity Library
cwatson@div.duke.edu
Duke Divinity School students, staff, and faculty are invited to a community supper sponsored by the Office of Student Life to provide an opportunity to relax and enjoy fellowship during this busy time of the semester.
Wednesday, November 30, 2011 - 12:00am
to
Wednesday, December 14, 2011 - 5:00pm
Hallway outside of Cokesbury Bookstore and first floor hallway leading to Langford Building
(919) 660-3548 or cwatson@div.duke.edu
The Basin and Towel student group at Duke Divinity School will sponsor its annual Angel Tree project to support low income families in the Walltown community of Durham, N.C., this Christmas. Faculty, staff, and students interested in participating can select a paper angel from one of two trees and buy a gift that is described there.
The deadline has been extended from Dec. 9 to Dec. 14 to deliver the wrapped gift to Cathy Watson at the Office of Student Life in Room 113 of Gray Building.
Tuesday, November 29, 2011 -

3:00pm

to

4:00pm
0014 Westbrook
studentlife@div.duke.edu
The Office of Student Life at Duke Divinity School will sponsor a safety briefing, "It Takes a Thief," by Eric Hester, crime prevention officer with the Duke Police Department. The briefing will focus on security on campus and at home, and safety at the mall and while online shopping.
Thursday, December 1, 2011 -

12:30pm

to

1:20pm
0041 Langford
christina.holder@duke.edu
The Duke Center for Reconciliation will sponsor a discussion with Chris Rice, director of the center, about how God is working through churches in North Korea, Romania, and Poland as they pursue reconciliation in the aftermath of years of devastating conflict. Rice will share photos and information he learned during his recent eight-day visit to North Korea.
There will be free pizza and beverages.
Wednesday, November 23, 2011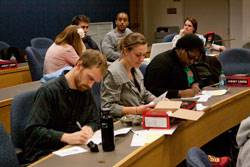 The week before Thanksgiving, 260 Divinity School students took time from their busy schedules to write thank-you notes to donors and supporters. The event, held Nov. 16-17, was organized by Carol Rush and Betsy Poole from annual giving and alumni relations.
Friday, December 2, 2011 -

12:30pm

to

1:20pm
0016 Westbrook
cwatson@div.duke.edu
The Axe of the Apostles, a Divinity School musical entertainment group, will hold a lunch-time show open to students, faculty, and staff.
Thursday, December 1, 2011 -

12:30pm

to

1:20pm
0016 Westbrook
womenscenter@div.duke.edu or obcs@div.duke.edu
Friday, November 18, 2011
Recordings of lectures and discussions from After the Yellow Ribbon, a Nov. 11-12 conference at Duke Divinity School, are now available on iTunes U.
Combat veterans, pacifists, pastors, and military leaders gathered at the event to discuss how the church, the military, and academia can understand and begin to heal the unseen wounds of war.
Tuesday, November 22, 2011 -

1:15pm

to

2:00pm
0044 Langford
centeringprayer@duke.edu

The Centering Prayer group meets on Tuesdays for prayer and discussion. The open group is led by Sister Joanna Walsh.
Wednesday, November 16, 2011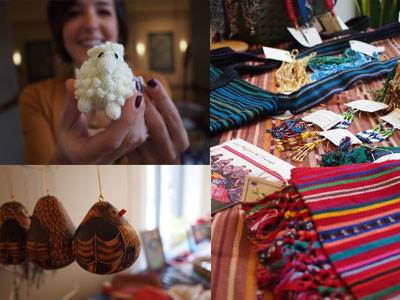 Chances are that "1,000 servings of fresh produce" and "annual preventive health care for a child" are not on the typical holiday shopper's list. But at Duke Divinity School's 23rd Annual Alternative Gift Market today, you can find gifts that help feed the hungry, heal the sick, and shelter the homeless.
Pages