Thursday, December 15, 2011
The Duke Divinity School Center for Reconciliation is now accepting applications for the 2012 Summer Institute, "The Ministry of Reconciliation in a Divided World," to be held May 28 – June 2 on the campus of Duke University.
This one-of-a-kind, five-day intensive is designed to nourish, renew, and deepen the capacities of U.S. and international Christian leaders in the ministry of reconciliation, justice, and peace.
Thursday, December 8, 2011
Link to Page:
http://itunes.apple.com/WebObjects/MZStore.woa/wa/viewPodcast?id=474266256
Thursday, November 10, 2011 -

12:20pm

to

1:20pm
031 Westbrook
mjclancy@div.duke.edu or (919) 660-3578
The following event has been cancelled:
The Duke Center for Reconciliation will hold an information and discussion session led by students who attended the recent Christian Community Development Association (CCDA) conference in Indianapolis, Ind. Students will discuss the workshops  and plenary talks they attended, as well as ideas on applying the the concepts presented.
Beverages will be provided.
Wednesday, November 2, 2011 -

12:20pm

to

1:15pm
0012 Westbrook
mjclancy@div.duke.edu or (919) 660-3578
The Duke Center for Reconciliation will hold an information session on its spring pilgrimage to Baltimore, Md., and Richmond, Va., during the spring 2012 reading week. The pilgramage will expand participants' imagination of ministry on a journey of discipleship. Stories and photos of past pilgrimages will be shared at the information session. There also will be snacks and beverages.
Thursday, November 17, 2011 -

12:25pm

to

1:15pm
0041 Langford
gherman@div.duke.edu or (919) 660-3594; christina.holder@duke.edu
The Duke Center for Reconciliation and Internationally-Minded People of Faith will co-host a brown bag lunch with Dr. David Kasali, president of the Congo Initiative and principal of the Bilingual Christian University of the Congo. The Christian educator teaches at the center's Great Lakes Institute each January in Uganda. Kasali will discuss founding the university, his community development work through the Congo Initiative, and the education of a new generation of Congolese leaders committed to God's new creation as ambassadors of reconciliation after many years of civil war. 
Thursday, October 20, 2011 -

12:20pm

to

1:20pm
0013 Westbrook
dolsongetty@div.duke.edu or (919) 660-3593
The Duke Center for Reconciliation will hold a Teaching Communities Field Education Internship Lunch for students to learn about about field education internships with communities and congregations that exemplify Christian reconciliation, peace-making, and social justice.
Placements include L'Arche in Washington, D.C., Neighborhood Ministries in Phoenix, Az., LaSalle Street Church in Chicago, Ill., The Church of the Saviour in Washington, D.C., and New Song Ministries in Baltimore, Md.
There will be free pizza at the luncheon.
Wednesday, October 5, 2011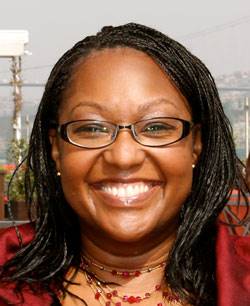 Abikök ("Abi") Riak has been named manager of operations and programs in the Center for Reconciliation, effective Nov. 18. This new position is part of a planned restructuring and expansion of the center led by the center's co-directors Emmanuel Katongole and Chris Rice and supported by a new foundation grant.

Registration is now open for the fifth annual Reconcilers Weekend September 16-17, 2011, hosted by the Duke Center for Reconciliation, featuring Virgilio Elizondo and Kit Danley.
You find them working tirelessly in the most challenging divides in the world: Christian/Muslim violence in Nigeria; overcrowded and unjust prisons worldwide; broken inner cities in the U.S.; and environmental destruction caused by industrialization in Buffalo, N.Y.
While the individual details may have been different, people from across the world who gathered at the Duke Center for Reconciliation's Summer Institute shared the same story while seeking inspiration and a deeper understanding of reconciliation.
Pages