Duke Divinity School's annual Convocation & Pastors' School will return Oct. 15-16, featuring lectures by renowned scholars and practitioners, seminars that foster in-depth discussion, worship services, and the opportunity to reconnect with friends and faculty. 

Link to Page:
http://www.faithandleadership.com/qa/wayne-weathers-dont-be-embarrassed-admit-you-need-help
Link to Page:
http://www.faithandleadership.com/features/articles/emerald-treasures
Monday, February 13, 2012
Link to Page:
http://today.duke.edu/2012/02/haysappointment
Tuesday, November 1, 2011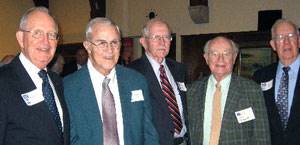 On Oct. 11, 56 alumni from the class of 1961 were inducted into the Half Century Club at a dinner held in their honor in the Divinity School's York Room. The Half Century Club recognizes alumni from Duke Divinity School who graduated 50 years ago.
Thursday, October 13, 2011
Richard Heitzenrater, William Kellon Quick Professor Emeritus of Church History and Wesley Studies at Duke Divinity School, was awarded the 2011 Distinguished Alumni Award by the National Alumni Council for the Divinity School Alumni Association. The award was presented during the Alumni Luncheon on Oct. 11.
Watch Duke Divinity School's first worship service of the academic year for students, faculty and staff at 11:25 a.m. on Aug. 30 during a live webcast.
Dean Richard B. Hays will preach at the convocation service, which is highlighted by an academic procession of the faculty and selected senior administrative staff. The service also includes a blessing of new faculty and staff, and a welcoming to the entering class of students.
Pages